The city of Bonn is located on the Rhein River in western Germany. The city's history goes back over 2000 years to its origins as a Roman camp, Castra Bonnensia. Today Bonn is best known as the capital of West Germany from 1949-1991, and as the birthplace of composer Ludwig Beethoven (1770-1827). Bonn is also home to the Rheinische Friedrich-Wilhelms-University, which was founded in 1818 and is one of the ten largest universities in Germany with over 30,000 students. The university includes over 350 different buildings in Bonn, but its main building is housed in the former palace of the Elector of Cologne, built in the early 18th century.
---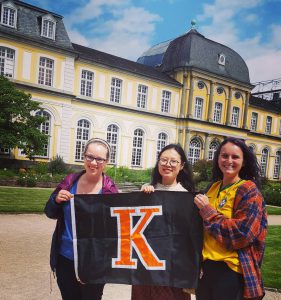 Students from Kalamazoo College may choose the long-term exchange program in Bonn (September-February) or the short-term program (April-July). The program begins with a month-long intensive language course taught through the university's Akademische Auslandsamt (Office for International Students). Students then choose a variety of courses designed for non-native speakers of German, based on the student's level of proficiency. Bonn courses are offered in German language, literature, geography, history, etc. Students can participate also participate in music and theater groups. The international student office offers a variety of extra-curricular activities and opportunities for excursions in and around Bonn.
Kalamazoo students live in dormitories in single rooms (with shared kitchens and baths), alongside German students. They receive a monthly stipend for food, and may choose to take lunches in the university cafeteria (Mensa). Bonn has many international restaurants, as well as a large, year-round, daily outdoor market.
Requirements for the long-term program in Bonn: Students must have Junior standing and have completed at least German 101 102, but no course higher than German 203/204. (Some exceptions possible; especially for fall athletes.)
Requirements for the short-term program in Bonn: Students must have Sophomore standing. Students must have completed at least German 101 and 102, but no course higher than German 203/204. (Some exceptions possible; especially for fall athletes.)