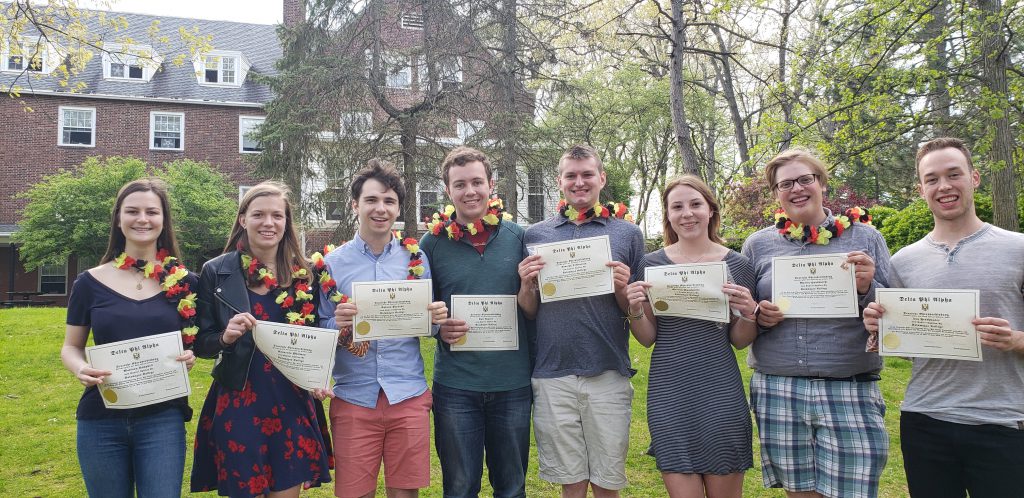 At Kalamazoo College, we offer beginning to advanced German courses, as well as study abroad programs in Germany. Our students can choose to major or minor in German Studies. We have an innovative curriculum that foregrounds cultural themes from the first weeks of German class–like migration, food politics, and sustainability. Our graduates not only become proficient in German, they learn to think critically about history and culture and gain lifelong skills in intercultural communication.
Why take German? Many of our students start with us in German 101 because they are looking to try a new language in college. German is the most widely spoken language in Europe and is an important language in many fields, such as science, business, philosophy, history, or art. And because it's a Germanic language and shares a history with English, it might be easier than you think: Das ist mein Haus (That is my house); Ich habe eine Katze (I have a cat); Ich flippe aus! (I'm flipping out!).
German is a good fit for students interested in a wide variety of subjects, such as philosophy, music, art, history, the sciences, or business. Maybe you want to read Kafka or Marx in the original language, maybe you're a fan of Beethoven, Schubert, or Kraftwerk, or you want to work for a German company like BMW or Adidas. In German classes, you're going to learn a lot more than just the language. Many of our courses are even cross-listed with other fields like Environmental Studies, and Women, Gender, and Sexuality Studies. Students in biology and chemistry have done research in Germany, and our students often do internships while studying abroad that help them have a true immersion experience.
At Kalamazoo College, students have the unique opportunity to speak German in and outside of the classrooms with our Teaching Assistants from Germany. The TAs also host fun activities such as game nights, film events, and a weekly conversation group.
We always look forward to welcoming new students to the program! Please don't hesitate to contact a faculty member with questions.
---
Congratulations to our two Fulbright winners, 2021-22! Nina Szalkiewicz and Katie Miller-Purrenhage have been selected for this prestigious fellowship and will be teaching English abroad, in Austria and Germany. Herzlichen Glückwunsch!
Kalamazoo College is among the top producers of Fulbright recipients among colleges and universities. Our students in German have been particularly successful with applying for this competitive grant. Read more here.
---
Like Kalamazoo College German Studies Department on Facebook and follow us on Instagram @kzoogerman to keep up to date with all upcoming German department events!