Teaching Assistants (TAs)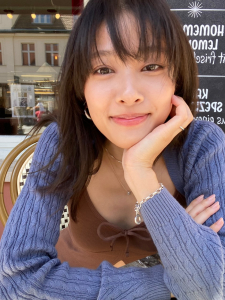 Hallo zusammen! My name is Anna Nguyen — it's nice to meet you! I'm a Visiting International student at K this semester. Born and raised in Berlin, and currently a junior for my English and History majors at my home university in Germany, I think I can help you get an authentic insight into my home country's culture as your German TA. Well, one of my home countries' culture, that is — My family is of Vietnamese descent which made me grow up biculturally! Around Europe and Southeast Asia, I've already travelled a lot and never all that far away from the homes I know. I'm super excited about being on the other side of the ocean for the first time and looking forward to bonding with you over any, many-faceted cultural exchange, as well as over potentially shared loves for literary fiction, writing, or travelling! Ich freue mich auf euch!
---
Hey there! My name is Lena and I am from Bavaria, south Germany (you know, this place with pretzels and beer). I will spend the upcoming academic year at Kalamazoo College as an exchange student. In Germany, I am studying to become a primary school teacher. I love teaching and helping others achieving their goals, which is why I am very happy to become a TA at Kalamazoo College. It will be a pleasure sharing my language skills with you. In my sparetime I love doing sports, but I also enjoy cooking and baking very much. I am looking forward to meeting you all! See you soon!
---
Olivia Machnik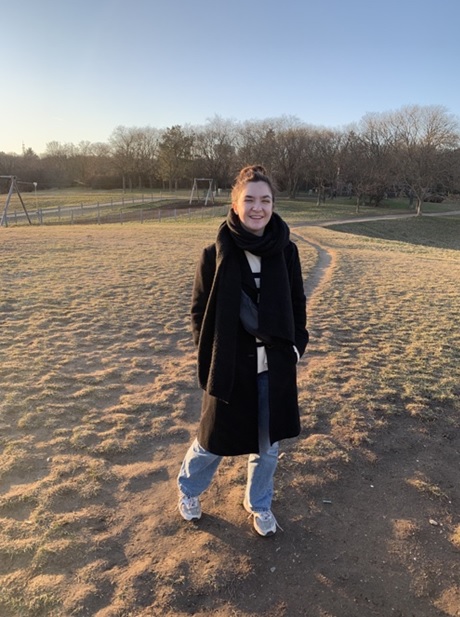 Hello everyone! My name is Olivia, I am 22 years old, and I will be a German Teaching Assistant at Kalamazoo College for the next year. I am really excited to meet you all and to get to know you. I am from the German town Hannover, being known for its dialect free German. In my free time I love to play my trumpet, meet my friends, go to cafes or to travel. I am really into languages, food, music and just trying out new things in general. get to know each other, our cultures, our food and music! Excited for out time together at Kalamazoo College. Ich freue mich auf euch und unsere Zeit zusammen!
---
Departmental Student Advisor (DSA)
Christian Zeitvogel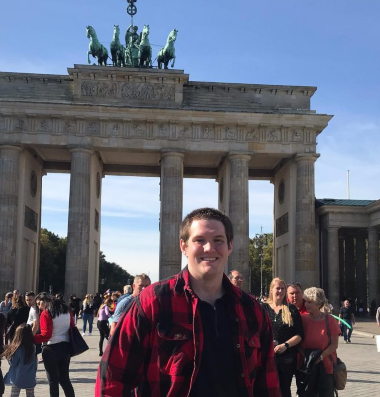 Servus! I'm Christian Zeitvogel and I have the pleasure of introducing myself as the DSA for the German Department. I am an incoming Senior from beautiful Beverly Hills… Michigan. Although I came to Kalamazoo with no intention of pursuing German [much less doing study abroad], I now cannot imagine my life without these experiences. I originally applied for the six month program in Erlangen, but as soon as I arrived, I knew that I did not want to leave and stayed for a year. At the ripe age of twenty-one I experienced a "quarter-life crisis" [sozusagen] during my study abroad as I realized that my future lies in Europe. Outside of academics, I love the culinary arts and engaging in politics. After having been away from K for two years, I am thrilled to return to campus this fall.
In 20 words or less, what is the best thing about being part of your department?
The German department builds an interactive community between students and professors inside and out of the classroom.
What is your biggest piece of advice to first years and sophomores about getting connected to your department? 
Seize every opportunity that presents itself, whether it be actively engaging in class, attending one of our public events such as Stammtisch and movie nights, or discovering something from German culture such as cuisine and music. The classes are academically stimulating while our extracurricular events are a lot more relaxed and provide a more casual opportunity to meet other students, practice the language, and learn something new (Often times there is food involved too).
What is a random fun fact about you?
My last name, Zeitvogel, literally translates to "Time-bird" because my family heritage traces back to the Schwarzwald in Germany where we once made cuckoo clocks.
---
Student Assistant
Ella Heystek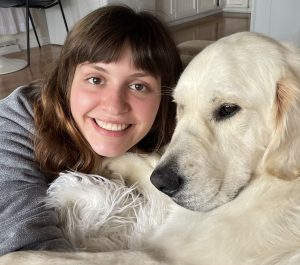 Hallo! My name is Ella and I'm from St. Johns, MI. I am a sophomore at K college thinking about double majoring in English and German. In my free time, I enjoy reading, watching movies, and going to concerts. I am the student assistant for the German department this year, 2022-23.